15th Annual Chiller Thanksgiving Classic
November 29-Dec. 1, 2013
Hosted by The OhioHealth Chiller Ice Rinks - Columbus, Ohio
2013 Results

JV Ohio Results - St. Charles - Division Champ
EAST - Liberty, Orange, St. Charles, Sycamore
WEST - Lake Catholic, Northeast Storm, St. Xavier, Upper Arlington
JV USA Results - Wooster - Division Champ
EAST - Dublin White, New Albany, PHA Prowlers, Wooster
WEST - Columbus, Dublin Green, Hilliard, Westerville
Varsity Ohio Gray Results - Lake Catholic - Division Champ
EAST - Dublin Coffman, Lake Catholic, Olentangy Orange, Sylvania Southview
WEST - DeSales, Dublin Jerome, Strongsville, Sycamore
Varsity Ohio Red Results - Gahanna - Division Champ
EAST - Centerville, Elder, Olentangy, St. Xavier
WEST - Clay, Gahanna, Perrysburg, Thomas Worthington
Varsity USA Blue Results - St. Charles - Division Champ
EAST - Abbey Park, Liberty, St. Charles, Westerville
WEST - Hilliard, Northeast Storm, Robert Bateman, Upper Arlington
Varsity USA White Results - Trinity - Division Champ
EAST- Montour, PHA Prowlers, Watterson, Worthington Kilbourne
WEST - Athens, Dublin Scioto, Lester B. Pearson, Trinity
For Questions Contact Jeremy at 614-791-9999 ext. 123 or jrogers@thechiller.com
Features:
4-game guarantee
4 varsity divisions
2 JV divisions
Great facilities
Discounted Blue Jackets tickets - click here for details >
Close to shopping, restaurants and entertainment
Please support our host hotels.
Click here for Marriott hotel booking info >
Click here for Embassy Suites hotel booking info >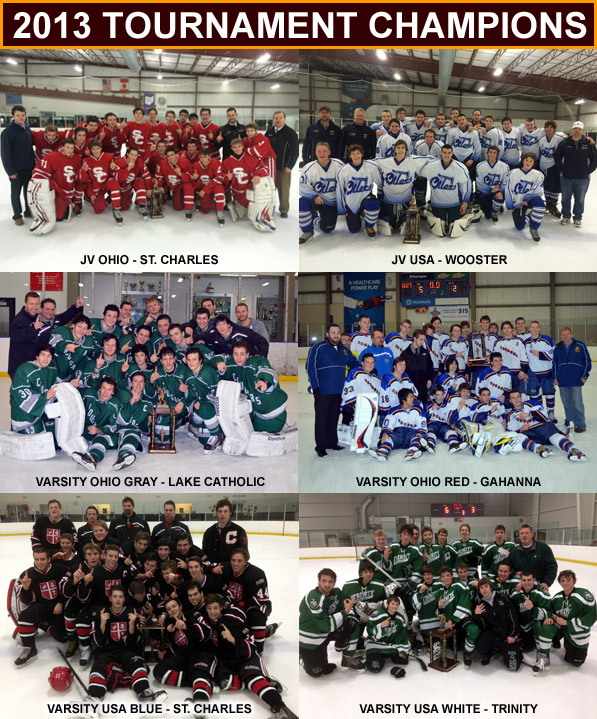 Upcoming Events (See all)
CAHL C, D & E Goalie Clinic
Professional goalie coach Dave Caruso (New Jersy Devils) will instruct adult goalies on the proper use of goalie specific movements, proper positioning and depth awareness, proper save techniques and pro tips to STOP MORE PUCKS!
2014 Hockey Equipment Swap
Join us Saturday, September 20th, 12:00-2:00pm at OhioHealth Chiller North for the 2014 Hockey Equipment Swap. Donate used equipment at any OhioHealth Chiller location and receive two free CBJ pre-season ticket vouchers.