Thur D West
MAKE YOUR CAHL PAYMENT ONLINE >
Top 8 teams qualify for playoffs
Thursday D West Standings
Thursday D West League Leaders
Recent Results
| Feb 4, 2016 | 1 | 2 | 3 | OT | FINAL | |
| --- | --- | --- | --- | --- | --- | --- |
| Organ Donors | 1 | 1 | 1 | 0 | 3 | F |
| Mr. Mulch | 0 | 0 | 1 | 0 | 1 | |
| Feb 4, 2016 | 1 | 2 | 3 | OT | FINAL | |
| --- | --- | --- | --- | --- | --- | --- |
| Chef Bollardee | 2 | 2 | 0 | 0 | 4 | F |
| Apeks Supercritical | 3 | 2 | 1 | 0 | 6 | |
| Feb 4, 2016 | 1 | 2 | 3 | OT | FINAL | |
| --- | --- | --- | --- | --- | --- | --- |
| Direwolves | 1 | 1 | 1 | 0 | 3 | F |
| Battelle | 0 | 0 | 1 | 0 | 1 | |
| Feb 4, 2016 | 1 | 2 | 3 | OT | FINAL | |
| --- | --- | --- | --- | --- | --- | --- |
| Hamilton Mustangs (Thu) | 1 | 6 | 0 | 0 | 7 | F |
| Barley's Brew Pub | 0 | 1 | 1 | 0 | 2 | |
| Feb 4, 2016 | 1 | 2 | 3 | OT | FINAL | |
| --- | --- | --- | --- | --- | --- | --- |
| Brew Jackets | 0 | 0 | 1 | 0 | 1 | F |
| White Lightning | 1 | 1 | 3 | 0 | 5 | |
| Feb 4, 2016 | 1 | 2 | 3 | OT | FINAL | |
| --- | --- | --- | --- | --- | --- | --- |
| Carvery | 1 | 0 | 0 | 0 | 1 | F |
| Bye Week | 1 | 2 | 0 | 0 | 3 | |
Upcoming Games
| DATE/TIME | FACILITY | HOME | AWAY |
| --- | --- | --- | --- |
| 2/18/16, 7:40 PM | Chiller Easton | Direwolves | Bye Week |
| 2/18/16, 9:50 PM | Chiller Ice Works | Apeks Supercritical | Battelle |
| 2/18/16, 10:00 PM | Chiller Easton | Barley's Brew Pub | White Lightning |
| 2/18/16, 10:30 PM | Chiller Dublin | Brew Jackets | Organ Donors |
| 2/18/16, 10:40 PM | Chiller Dublin | Chef Bollardee | Carvery |
| 2/18/16, 11:00 PM | Chiller Ice Works | Mr. Mulch | Hamilton Mustangs (Thu) |
| 2/25/16, 9:10 PM | Chiller North | Organ Donors | Apeks Supercritical |
| 2/25/16, 9:30 PM | Chiller Easton | Battelle | Brew Jackets |
| 2/25/16, 9:40 PM | OhioHealth Ice Haus | Carvery | Barley's Brew Pub |
| 2/25/16, 10:00 PM | Chiller North | Hamilton Mustangs (Thu) | Chef Bollardee |
Stats by Chillerstats - Copyright 2016 cfOrange, LLC
Previous Session Champions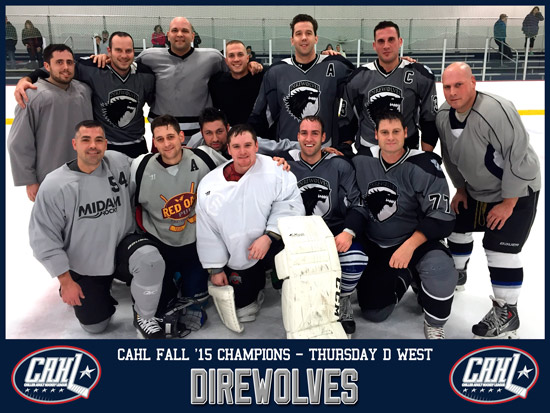 Chiller Blog(See all)
Now offering BLADEMASTER skate sharpening
Blademaster skate sharpening, exclusively at OhioHealth Chiller Easton, with factory-trained, certified sharpeners.
Blue Jackets Winter Park 2016
The Columbus Blue Jackets will be hosting a month-long celebration of the winter season with Columbus Blue Jackets Winter Park presented by Worthington Industries, located across the street from Nationwide Arena, from Friday, January 22 through Sunday, February 21, 2016.
CAHL Practice Ice Special
Keep your team on the ice and get the edge on the competition!