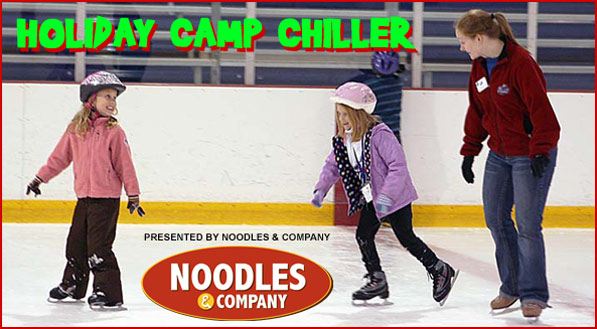 Holiday Camp Chiller
A fun way for your kids to spend holiday break!
Holiday Camp Chiller, presented by Noodles & Company, will introduce your child to ice skating, as well as engage them in fun activities and projects.
Camp includes two and a half hours of skating a day!
Ages: 4-11
Pre-registration rates (due by December 17)

$30/day - 3-4 days
$35/day - 1-2 days
Walk-in rate - $40/day
2013-2014 Schedule
OhioHealth Chiller Easton
OhioHealth Chiller North
Camp activities include:
1.5 hours ice skating lesson from professional Chiller ice skating instructor (all levels welcome)
1 hour of supervised free skate time featuring on-ice fun and games
Art projects and games
Songs and story time
Lunch - bring your own, or purchase from us
Each camper will receive:
A Camp Chiller t-shirt (must attend 2 days or more)
One public skating pass per day of attendance - $7 value!
What parents are saying about Camp Chiller
"Lots of fun! Great counselors and instructors!"
"Michael was sad today on his way to camp, because today was the last day of camp. Everybody did a fantastic job - we will definitely come again!"
"My kids love Camp Chiller. They won't do anything else."
"I was very pleased. My kids have never been on the ice before and their instructors were awesome! They are great with the kids - patient, warm & friendly."
"Great program! Sarah did more cool activities here then she's done at any other camp!"
"My 5 year old son Jacob loves and always looks forward to skating and all the other great activities at Camp Chiller."
For more camp information, please contact Kelly at kfogt@thechiller.com or 614-791-9999x135.

Chiller Blog(See all)
Speedskating Learn to Skate Class - Begins September 27
Catch the excitement of the fastest sport on ice! This class will teach you the basic skills you need to become a short track speedskater or to simply join our club for fun and fitness! This is an introductory class and beginners are welcome.
2014 Hockey Equipment Swap
Join us Saturday, September 20th, 12:00-2:00pm at OhioHealth Chiller North for the 2014 Hockey Equipment Swap. Donate used equipment at any OhioHealth Chiller location and receive two free CBJ pre-season ticket vouchers.
2014-2015 ISI District 7 Team Competition Series
Come and experience fun competitions! All ages and levels of skaters welcome. Entry deadline September 6, 2014.