Chiller Summer Hockey League - West Division
The Chiller Summer Hockey League is a recreational league for high school hockey players.
For more information on the league or to make inquiries concerning future sessions, contact Martin Spanhel - mspanhel@thechiller.com or 614-791-9999x158.
Download Summer League West schedule >
Read the Chiller Summer League Rules and Regulations (PDF) >
Coaches and Managers - Click here for roster setup instructions >
Top 8 teams qualify for playoffs
High School West Playoffs
High School West Standings
High School West League Leaders
Upcoming Games
DATE/TIME
FACILITY
HOME
AWAY
No upcoming games scheduled
Stats by Chillerstats - Copyright 2016 cfOrange, LLC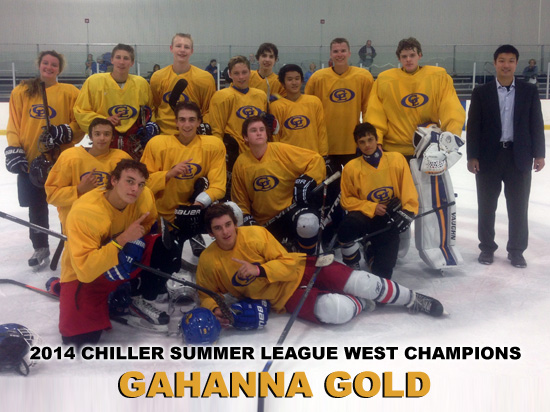 Upcoming Events (See all)
Presidents Day Adult Hockey Clinic
Hockey clinic for ages 18+. Power skating, Stick handling, Passing, Shooting and Scrimmage.
Presidents Day Jr. Stinger Hockey Clinic
2-day hockey clinic for ages 4-6. Focus on proper skating stance and balance, forward skating, one foot snow plows, tight turns, stick handling, passing, shooting, cross ice scrimmage & more.
Presidents Day Power Skate Clinic
Hockey power skate clinic for ages 6-12. Full gear required.
Chiller Blog(See all)
Now offering BLADEMASTER skate sharpening
Blademaster skate sharpening, exclusively at OhioHealth Chiller Easton, with factory-trained, certified sharpeners.
Blue Jackets Winter Park 2016
The Columbus Blue Jackets will be hosting a month-long celebration of the winter season with Columbus Blue Jackets Winter Park presented by Worthington Industries, located across the street from Nationwide Arena, from Friday, January 22 through Sunday, February 21, 2016.
CAHL Practice Ice Special
Keep your team on the ice and get the edge on the competition!