Blue Jackets Hockey School
Our Goals:
The Columbus Blue Jackets Hockey School will concentrate on the fundamentals of skating, stick handling, and passing; with special instruction on positional play and power skating. Young players will develop solid, fundamental skills that will build a strong foundation for their entire hockey career. Older players will focus on advanced passing, shooting, skating, and stick handling skills while also working on team play and proper checking techniques.
Our Philosophy: (From the Camp Director)
We are passionate about hockey – the greatest game on Earth! Our mission is to impart that passion to players of all ages and abilities, both on and off the ice. We bring together an unparalleled staff of experienced coaches, teachers and former players who will help every participant grow as a player and as an individual. Our curriculum is proven, we will challenge players to work hard and improve, and they WILL have fun! Our success is judged by the smiles on their faces and sweat on their brows at the end of each day!
Rob Schriner, Hockey School Director
Players receive:
2 Blue Jackets Tickets (date TBD)
Blue Jackets Hockey School Jersey
Hockey School Group Photo
T-Shirt
Water Bottle
Sani-Sport Discount
Trial Offer with RapidShot and more!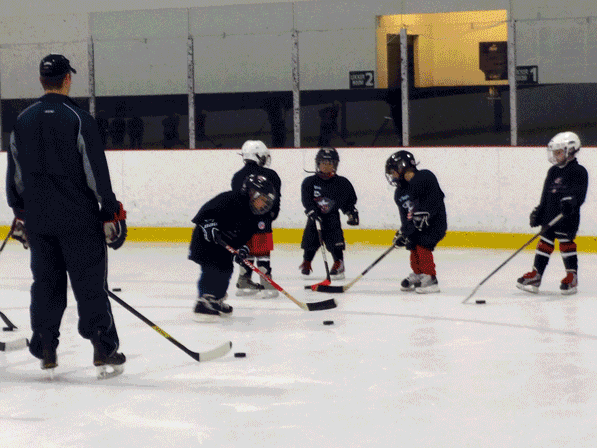 2013 Hockey School Dates, Times, and Locations
July 29 - August 2 at OhioHealth Chiller North
Mini-Mite Camp

Ages: 5-6 years old
Time: 8:30am - 12:15pm
Cost: $300
Mite Camp
Ages: 7-8 years old
Time: 12:30-5:15pm
Cost: $350
August 5 - 9 at OhioHealth Chiller North
Squirt Camp
Ages: 9-10 years old
Time: 8:00am - 12:15pm
Cost: $350
Peewee Camp
Ages: 11-12 years old
Time: 8:00am - 12:15pm
Cost: $350
Goalie Camp (Mite/Squirt)
Ages: 10 years old and under
Time: 1:00 - 2:30pm
Cost: $150
Goalie Camp (PeeWee/Bantam/Midget)
Ages: 11-16 years old
Time: 3:00 - 5:00pm
Cost: $200
August 5, 7 & 9 at OhioHealth Chiller North
Adult Camp
Ages: 18 & over
Time: 7:00 - 8:30pm
Aug. 5: On-Ice
Aug. 7: On-Ice
Aug. 9: On-Ice/Scrimmage
(followed by guest speaker/social event)
Cost: $145 or $50 per day
August 12 - 16 at OhioHealth Chiller North
Girls Camp
Ages: 8 & up
Time: 4:30 - 6:00pm
Cost: $150
Bantam/Midget Camp
Ages: 13-16 years old
Time: 8:00am - 12:15pm
Cost: $350
Contact Hockey Director Rob Schriner for more information - rschriner@thechiller.com or 614-791-9999 x125.
Upcoming Events (See all)
Turcotte Stickhandling Hockey School
Improve your stickhandling skills with Turcotte's top quality instruction for mite, squirt and peewee, December 21-23 at OhioHealth Chiller Easton.
Jr. Stinger Holiday Clinic
Holiday hockey clinic series for ages 4-6. Your tot will have lots of fun while improving their hockey skills.
Holiday Hockey Camp
Junior Jackets and House League players will sharpen skills and have fun with friends during this 3 day holiday series of hockey clinics.
Chiller Blog(See all)
Speedskating Learn to Skate Class
Catch the excitement of the fastest sport on ice! This class will teach you the basic skills you need to become a short track speedskater or to simply join our club for fun and fitness! This is an introductory class and beginners are welcome.
Drumstick Hockey Clinics for ages 4 to adult
Sharpen your skills over the Thanksgiving holiday with our Drumstick Hockey Clinics.
CAHL Practice Ice Special
Keep your team on the ice and get the edge on the competition! Book your practice ice now at the special CAHL discounted rate.