Special Events
The OhioHealth Chiller Ice Rinks offer a variety of special skating events including ice shows, exhibitions, competitions and clinics. Shows and exhibitions are a great way for skaters to showcase their skills in front of an audience and enjoy the results of their practice.
---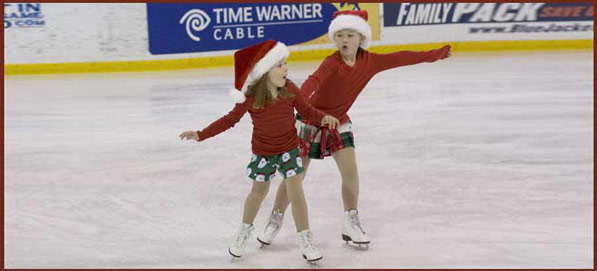 You're Invited To Skate in the Chiller Holiday Ice Show!
Click here to download practice schedule >
All local figure skaters and Chiller Skating School students are invited to participate!
Click here to view a highlight video from last year's show >

Sunday November 22, 2015
4:00-6:00 PM
OhioHealth Chiller North
Cost: $58
Registration Provides:
Performance of one number
Three rehearsal ice times with choreography instruction

Rehearsals Sundays in November - 11/1, 11/8 & 11/15 between 3:00-6:00pm

Two admission tickets

Additional tickets will be sold for $5.00 each
The show sells out every year so reserve your tickets early!
Skaters will be given their complimentary tickets and any additional tickets purchased at the November 15th rehearsal
Admission for children under age 10 is free
Registration Deadline - Friday, October 30, 2015
SHOW ANNOUNCEMENTS:
Our first rehearsal is this Sunday, November 1st at OhioHealth Chiller NORTH (in Lewis Center).

Please arrive 15 minutes ahead of time to check in, get skates on and meet your group.

Notes:
Skaters may be moved to a different group during the first rehearsal as show directors determine best fit. We try to balance groups based on age/level.
Some off-ice rehearsal may be added – group will be emailed.
Costumes will be announced next week – we need to see the kids in action before making final decisions.
Tickets will be available for pick up/purchase next week. The show sells out every year, so don't bank on tickets being available day of show.
Click here to register online >
Download an informational brochure >

Contact Skating Director Denise Hughes for more info - dhughes@thechiller.com or 614-791-9999 x124.