Thur D East
MAKE YOUR CAHL PAYMENT ONLINE >
Top 4 teams qualify for playoffs
Thursday D East Playoffs
Thursday D East Standings
Thursday D East League Leaders
Recent Results
| Jul 17, 2014 | 1 | 2 | 3 | OT | FINAL | |
| --- | --- | --- | --- | --- | --- | --- |
| Beer Nuts | 1 | 0 | 0 | 0 | 1 | F |
| Brian's Bail Bonds | 1 | 2 | 1 | 0 | 4 | |
| Jul 17, 2014 | 1 | 2 | 3 | OT | FINAL | |
| --- | --- | --- | --- | --- | --- | --- |
| Ducks | 0 | 1 | 1 | 0 | 2 | F |
| Beer | 0 | 0 | 1 | 0 | 1 | |
| Jul 17, 2014 | 1 | 2 | 3 | OT | FINAL | |
| --- | --- | --- | --- | --- | --- | --- |
| Barley's Brew Pub | 0 | 3 | 0 | 0 | 3 | F |
| JARitGolf.com | 1 | 0 | 0 | 0 | 1 | |
Upcoming Games
| DATE/TIME | FACILITY | HOME | AWAY |
| --- | --- | --- | --- |
| 7/24/14, 7:45 PM | Chiller Easton | Brian's Bail Bonds | Barley's Brew Pub |
| 7/24/14, 9:30 PM | Chiller Dublin | JARitGolf.com | Ducks |
| 7/24/14, 10:40 PM | Chiller Dublin | Beer | Beer Nuts |
| 7/31/14, 10:20 PM | Chiller North | Brian's Bail Bonds | Beer |
| 7/31/14, 10:30 PM | Chiller Easton | Barley's Brew Pub | Ducks |
| 7/31/14, 10:40 PM | Chiller Dublin | JARitGolf.com | Beer Nuts |
Stats by Chillerstats - Copyright 2014 cfOrange, LLC
Previous Session Champions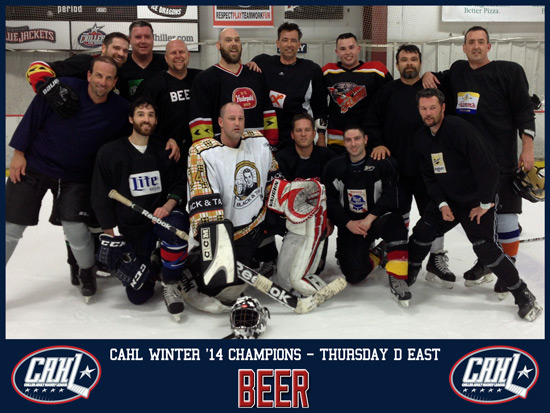 Upcoming Events (See all)
Chiller Pre-Season Tune up with Lee Harris
With his power skating and conditioning camp for ages 6-18, Coach Lee will combine his expertise in skating and hockey to push players to a higher level of skill and conditioning required for a successful hockey season
2014 Hockey Equipment Swap
Join us Saturday, September 20th, 12:00-2:00pm at OhioHealth Chiller North for the 2014 Hockey Equipment Swap. Donate used equipment at any OhioHealth Chiller location and receive two free CBJ pre-season ticket vouchers.
Chiller Blog(See all)
Hockey Referees Seminars Announced!
The Central Ohio Youth Ice Hockey Officials Association (COYIHOA) will be holding USA Hockey Officiating seminars for the upcoming 2014 - 2015 season.
OSU Men's Club Hockey Team Seeking Head Coach
The Ohio State University Men's Club Hockey team is currently offering the opportunity for a motivated individual to lead their close-knit team of laid-back student-athletes who play for the love of the game.