Thur D East
MAKE YOUR CAHL PAYMENT ONLINE >
Top 6 teams qualify for playoffs
Thursday D East Playoffs
Thursday D East Standings
Thursday D East League Leaders
Recent Results
| Dec 18, 2014 | 1 | 2 | 3 | OT | FINAL | |
| --- | --- | --- | --- | --- | --- | --- |
| JARitGolf.com | 2 | 1 | 2 | 0 | 5 | F |
| Brian's Bail Bonds | 0 | 0 | 0 | 0 | 0 | |
| Dec 18, 2014 | 1 | 2 | 3 | OT | FINAL | |
| --- | --- | --- | --- | --- | --- | --- |
| Beer | 2 | 2 | 1 | 0 | 5 | F |
| Ducks | 0 | 0 | 2 | 0 | 2 | |
Upcoming Games
| DATE/TIME | FACILITY | HOME | AWAY |
| --- | --- | --- | --- |
| 12/23/14, 8:00 PM | Chiller Dublin | JARitGolf.com | Beer |
Stats by Chillerstats - Copyright 2014 cfOrange, LLC
Previous Session Champions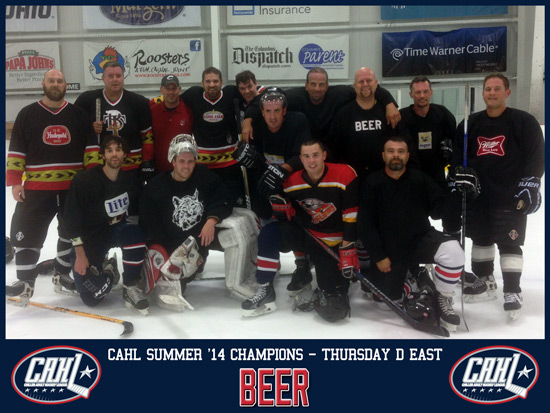 Upcoming Events (See all)
Turcotte Stickhandling
Get game-ready with Turcotte! Camps for Mite/Squirt/Peewee.
Pre-Holiday Goalie Camp
Four hours on-ice and three hours off-ice, with focus on Goalie Specific Movement, Proper Positioning and Depth Awareness, Proper Save Techniques and Execution and Pro Tips to help goalies STOP MORE PUCKS! Head coach Dave Caruso.
Blue Jackets vs. Predators
Go Jackets!