Events
Chiller Developmental Series - Pre-Season Tune Up
Tuesday, July 26, 2016 - 6:00 PM - OhioHealth Chiller Dublin



Chiller Developmental Series - Pre-Season Tune Up
Head Coach Darcy Cahill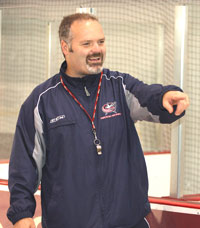 July 26-September 9, 2016
OhioHealth Chiller Dublin
14 on-ice sessions
1 practice, 1 scrimmage/week

Scrimmages are Fridays, register for either Tuesday OR Thursday Practice

All levels welcomed! Space is limited.
Cost: $350 per player (goalies are $175)
2010-08 birth years
Group 1
-
Tuesday
6pm practice -
FULL (players)
Group 4
-
Thursday
6pm practice
**Thursday 8/25 sessions will meet at Chiller North at normal time
Both Groups
-
Friday
6pm scrimmage
Register GOALIE for Group 1 (Tuesday practice/Friday scrimmage) >
Register PLAYER for Group 4 (Thursday practice/Friday scrimmage) >
Register GOALIE for Group 4 (Thursday practice/Friday scrimmage) >
2007-05 birth years
Group 2 - Tuesday 7 pm practice - FULL (players and goalies)
Group 5 - Thursday 7pm practice - FULL (players)
**Thursday 8/25 sessions will meet at Chiller North at normal time
Both Groups - Friday 7pm scrimmage
Register GOALIE for Group 5 (Thursday practice/Friday scrimmage) >
2004-02 birth years
Group 3
-
Tuesday
8pm practice -
FULL (players)
Group 6
-
Thursday
8pm practice
**Thursday 8/25 sessions will meet at Chiller North at normal time
Both Groups
-
Friday
8pm scrimmage
Register GOALIE for Group 3 (Thursday practice/Friday scrimmage) >
Register PLAYER for Group 6 (Thursday practice/Friday scrimmage) >
Register GOALIE for Group 6 (Thursday practice/Friday scrimmage) >
---
For more information contact Rob Schriner (614) 791-9999 x125 or rschriner@thechiller.com.
---

---
USA vs. Canada Pre-tournament Game
Friday, September 9, 2016 - 7:00 PM - Nationwide Arena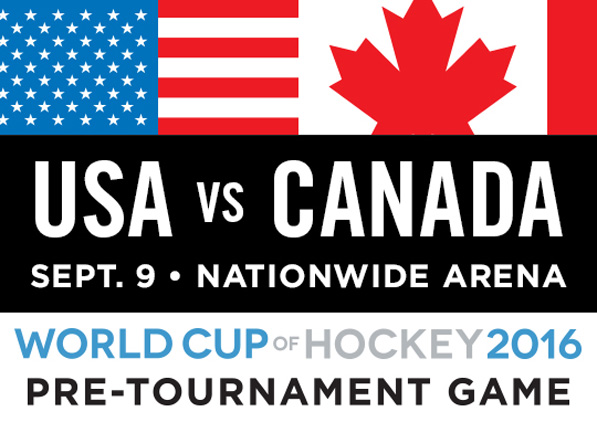 See some of the world's top hockey players at Nationwide Arena on September 9, 2016 when Team USA takes on Team Canada in a World Cup of Hockey pre-tournament game. Check out Jonathan Toews and Sidney Crosby from Team Canada take on Patrick Kane, Jonathan Quick and the rest of team USA led by Blue Jackets head coach John Tortorella. Tickets for this historic rivalry between the US and Canada go on sale Friday, April 8 at 10am.

Click here to purchase tickets >
For more detailed information on the World Cup of Hockey click here.
---
2016 Hockey Equipment Swap
Saturday, September 17, 2016 - 11:00 AM - OhioHealth Chiller North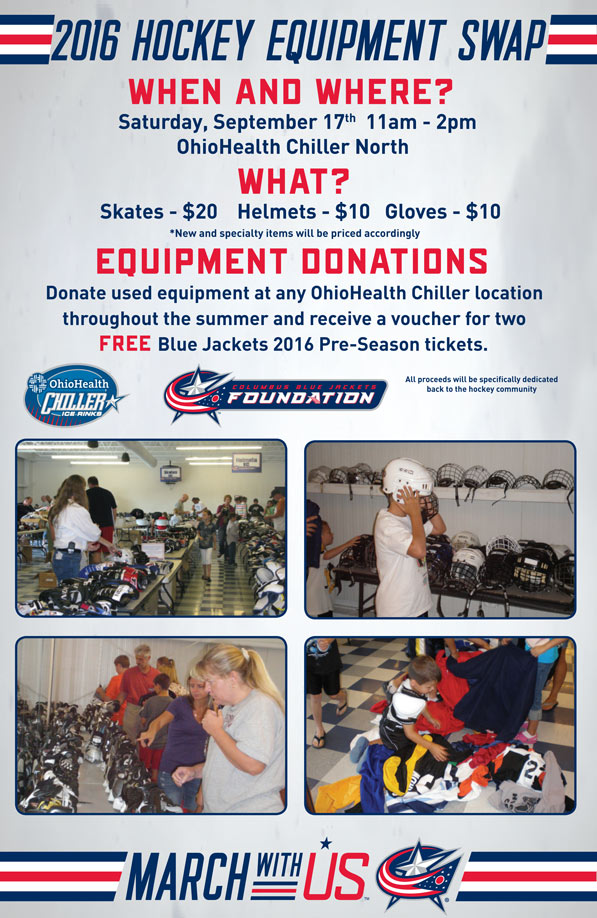 2016 Hockey Equipment Swap
When and Where:
Saturday, September 17th
11:00am-12:00pm
OhioHealth Chiller North (8144 Highfield Drive, Lewis Center, OH 43035)

What:
Skates - $20
Helmets - $10
Gloves - $10
*New and specialty items will be priced accordingly

Equipment Donations:
Donate used equipment at any OhioHealth Chiller location throughout the summer and receive a voucher for two FREE Blue Jackets 2016 Pre-Season tickets!
---