Welcome Players and Guests of The OhioHealth Chiller Ice Rinks
Through a preferred partnership with The OhioHealth Chiller Ice Rinks, the Embassy Suites Columbus and the Embassy Suites Dublin, part of the Hilton family, are pleased to offer special team group rate of $129.00.
ENJOY OUR TWO ROOM SUITES WHICH PROVIDE:
Separate Bedroom
Full Living Room
Full Breakfast Buffet with made to order omelets
Manager's reception Daily with Free Sodas, Juices & Waters for Youth; Free Beer, Wine and Mixed Drinks for Adults
Indoor Pool and Hot Tub
Full Service restaurant and Room service
Free WIFI
The OhioHealth Chiller Ice Rinks and Proximity to Embassy Columbus & Embassy Dublin:

1. OhioHealth Chiller Dublin:
Embassy Suites Dublin 5 miles
Embassy Suites Columbus 15.1 miles

2. OhioHealth Chiller Easton:
Embassy Suites Columbus 5.1 miles
Embassy Suites Dublin 17 miles

3. OhioHealth Chiller North:
Embassy Suites Columbus 8.7 miles
Embassy Suites Dublin 11 miles

4. OhioHealth Chiller Ice Works (Worthington):
Embassy Suites Columbus 4.4 miles
Embassy Suites Dublin 8 miles

5. OhioHealth Chiller Ice Haus (Downtown):
Embassy Suites Columbus 14.1 miles
Embassy Suites Dublin 17 miles

RESERVATIONS:
For all group or team reservations, call or email date requests to :
Columbus Property: Cindy_anderson@embassycolumbus.com or 614-823-6738
Embassy Suites Columbus Website: embassycolumbus.com
Dublin Property: Stacy.Herald@hilton.com or 614-602-0116
Embassy Suites Dublin Website: embassysuitescolumbus.com

To receive the best available rates for single reservations, please call 1-800-embassy.
Upcoming Events (See all)
Drumstick Jr. Stinger Hockey Clinic
Hockey clinic for ages 4-6. Must be able to skate in full hockey gear.
CAHL C, D & E Level Goalie Clinics
CAHL C, D & E Level Goalie Clinics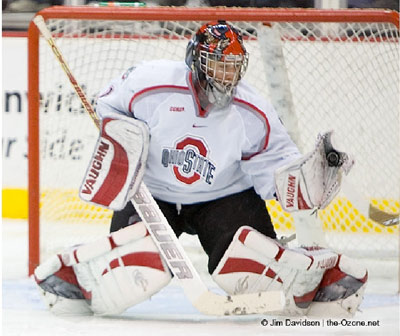 Sunday, November 30, 2014

Session 1: 3:00-4:30pm
Session 2: 4:45-6:00pm

Location: OhioHealth Chiller Easton
Cost: $35 per session

Lead Coach: Dave Caruso

CAMP WILL FOCUS ON:
Goalie Specific Movement (when and how to use t-pushes, shuffles, butterfly slides, c-cuts, lateral adjustments)
Proper Positioning and Depth Awareness (angles, square to puck, reading and reacting to game situations)
Proper Save Techniques and Execution (butterfly save, stick saves, body saves, glove and blocker saves)
Pro tips to help goalies STOP MORE PUCKS!
Use of Video (Immediate Feedback)
ABOUT COACH DAVE:
Goalie Development Coach, New Jersey Devils (2012-2014)
6-season professional career (2006-2012)

52 AHL games
186 ECHL games

4 seasons at the Ohio State University (2002-2006)

11 shutouts and a 2.07 goals-against average
Helped lead team to 3 NCAA Tournament berths and the 2004 CCHA Mason Cup
Register for camp online >

Download a printable registration form >
For more information contact Rob Schriner 614-791-9999 x125 or rschriner@thechiller.com.
Blue Jackets vs. Panthers
Go Jackets!