Chiller Blog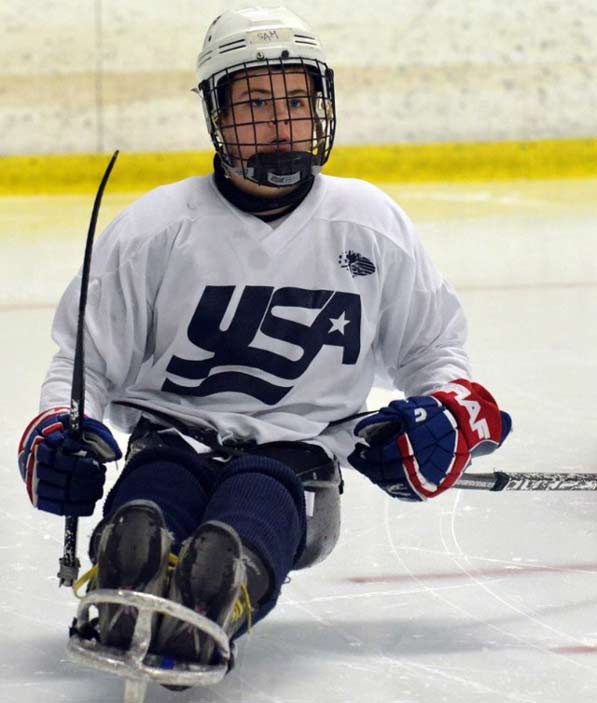 Dublin, Ohio resident Sam Mumper, 19, has been named to the U.S. National Sled Hockey team following tryouts July 12-13 in Amherst, New York. Sam was among 49 players who tried out for the team, from which the final roster was announced this week.
Sam was new to hockey when he took up the sport in 2007 with Ohio Sled Hockey, a non-profit organization that promotes and teaches the sport of hockey to players with disabilities. Sled or "sledge" hockey is played just like "stand up" ice hockey only the players sit on metal frames with skate blades on the bottom. They use two smaller sticks to propel themselves as well as pass, handle and shoot the puck. Sled hockey is a fast-paced, full-contact sport that requires a demanding level of conditioning and athleticism.
Sam has been a member of the US Developmental team the past five years and is now the second player from Ohio Sled Hockey to make the National team. Columbus resident Bruce Nelson also started with Ohio Sled Hockey and went on to compete on the National Team as well as Paralympic Team.
According to Sam, his love of sport as well as his soccer and basketball skills allowed him to quickly advance in hockey.
"He immersed himself into the sport and became a student of the game and one of the smartest players I've ever had the privilege to coach or watch. Sam has been a mentor to every player in our program," said Coach Mike Fenster of the Ohio United Elite Sled Hockey team - the highest level team under Ohio Sled Hockey.
Sled Hockey became an official sport in the Winter Paralympic games in 1994 and at the games this year in Sochi, Russia, the US team took home the gold. Several members of that team have been named to the National team along with Sam.
Ohio Sled Hockey trains at the OhioHealth Chiller Dublin and Sam usually trains there an additional two days per week. In the coming months he will periodically join the National team as it begins preparing for the World Championships to be held in Buffalo April 23-26th, 2015.
Next month Sam will be coaching with the USA Hockey Mid Am Sled Hockey camp to be held at OhioHealth Chiller North in Lewis Center, August 1-3.
For more information on Ohio Sled Hockey visit their website.
For information on the US National Sled Hockey team visit their website.
---
The following seminars will be held in the mezzanine of Chiller North:
8144 Highfield Drive
Lewis Center, OH 43035
------------------------------
New Level 1 Officials:
8/17/14
Check in at 8:00am
Ice Time 11:00am - 1:00pm
End at 2:00pm.
8/24/14
Check in at 8:00am
Ice Time 11:00am – 1:00pm
End at 2:00pm
-------------------------------
Returning Level 1 Officials:
8/17/14
Check in at 8:00am
Ice Time 11:00am - 12:00pm
End at 2:00pm.
8/24/14
Check in at 8:00am
Ice Time 11:00am – 12:00pm
End at 2:00pm
--------------------------------
Level 2:
8/17/14
Check in at 8:00am
Ice Time 11:00am – 12:00pm
End at 1:00pm
8/24/14
Check in at 8:00am
Ice Time 11:00am – 12:00pm
End at 1:00pm
--------------------------------
Additional important details:
- All Officials:
You must pre-register through
USA Hockey.
Online Registration for the 2014-15 season will be available August 1, 2014. Register for officiating level and then sign up for a local seminar.
- Officials under the age of 13 cannot register on-line. Please just show up to one of the listed Level 1 seminars and we will register you as a walk in. Parents please don't register your child in your name, because it creates issues with USA Hockey.
Things To Know and Bring To the Seminars
- Paper, Pencil, Rulebook, and printed out open book exam.
** New officials (if you are new to hockey officiating, you can only attend a Level 1 seminar):
- Helmet - without full face mask
- Hockey player skates - no goalie skates
- Whistle - one that fits on the fingers, NOT one on a lanyard
**Returning officials:
- Full equipment
- Rulebook
- Pencil for closed book test
The seminar requires that you are in attendance for the entire event!
- No late arrivals
- No early dismissal
- Levels 2 and 3 – There is a closed book exam - BE PREPARED!!!
- NO HELMET means that you CANNOT SKATE, which means that you get NO SEMINAR CREDIT!
You must pre-register through
USA Hockey.
---
The Ohio State University Men's Club Hockey team is currently offering the opportunity for a motivated individual to lead their close-knit team of laid-back student-athletes who play for the love of the game.
This is a paid position. The typical club hockey season runs from September to February and includes:
2 weeknight practices per week (typically Thursday and Tuesday)
2 weekend games per week (Friday and Saturday)
1-2 travel weekends per month
Interested parties please contact:

OSU Club Hockey President - Aaron Kahn
Email: kahn.94@buckeyemail.osu.edu
Phone: 510-847-8684
---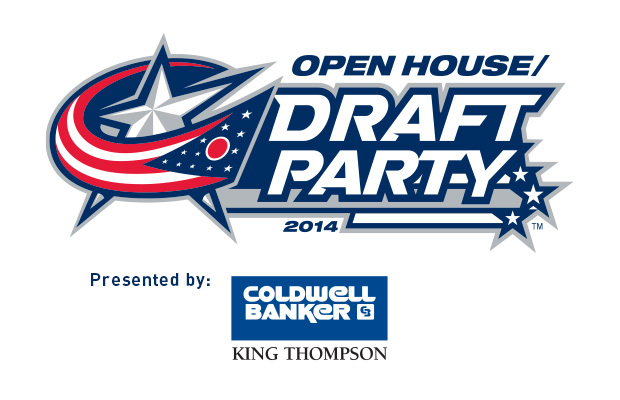 The Columbus Blue Jackets invite fans to share the excitement of the first round of the 2014 NHL Draft at the team's annual NHL Draft Party and Open House, presented by Coldwell Banker King Thompson, on Friday, June 27 at Nationwide Arena. The festivities will be headlined by autograph opportunities with Blue Jackets players Mark Letestu, Curtis McElhinney and Dalton Prout. Admission is free and all ages are welcome.

The party starts at 6:00pm on the floor of Nationwide Arena with live Draft coverage from the Wells Fargo Center in Philadelphia set to begin at 7:00pm.
BLUE JACKETS HOST NHL DRAFT PARTY AND OPEN HOUSE AT NATIONWIDE ARENA FRIDAY, JUNE 27 at 6:00pm
Player Appearances and Autograph Sessions with Mark Letestu, Curtis McElhinney and Dalton Prout
Fans can check out available seat locations for a variety of ticket plans for the 2014-15 season.
Additional activities include locker room tours, interactive games, History of NHL All Star Game Display, Video Game Stations and more.
Admission is free and the party starts at 6:00pm.
Get more info at BlueJackets.com
---
---
Upcoming Events (See all)
Chiller Pre-Season Tune up with Lee Harris
With his power skating and conditioning camp for ages 6-18, Coach Lee will combine his expertise in skating and hockey to push players to a higher level of skill and conditioning required for a successful hockey season
2014 Hockey Equipment Swap
Join us Saturday, September 20th, 12:00-2:00pm at OhioHealth Chiller North for the 2014 Hockey Equipment Swap. Donate used equipment at any OhioHealth Chiller location and receive two free CBJ pre-season ticket vouchers.