Chiller Blog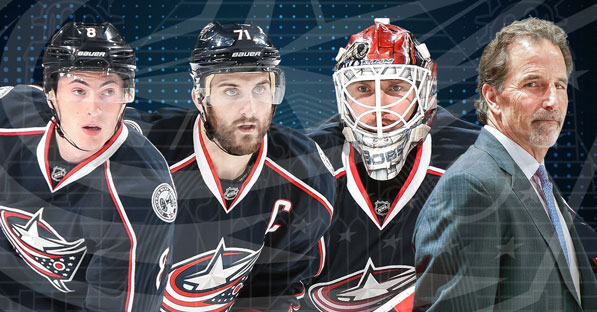 The Columbus Blue Jackets are hosting an NHL Awards Watch Party at The Bluestone on Wednesday, June 21, 2017. There are four Blue Jackets that have been named as finalists for five individual NHL honors. The club invites fans to the Watch Party on Wednesday. Some of the event highlights are listed below:
Blue Jackets forwards Boone Jenner and Oliver Bjorkstrand will join fans at The Bluestone
Blue Jackets radio play-by-play announcer Bob McElligott will host the event and conduct a question and answer session with Jenner and Bjorkstrand throughout the evening.
Fans will have a chance to win a meet & greet with the players during the party and one lucky fan will win a trip to Las Vegas for the Blue Jackets' first-ever road game against the Golden Knights.
Other opportunities include the chance to win one of the new 2017-18 Blue Jackets Adidas jerseys.
Tickets to the viewing party are available now. VIP tickets are $10 and include guaranteed entry into the event, one paid drink ticket, a limited-edition commemorative print and automatic entry into the raffle for the Las Vegas trip. A portion of the ticket proceeds will benefit the Columbus Blue Jackets Foundation. Orders are limited to six tickets per transaction.
CLICK HERE FOR MORE INFORMATION
---

Happy Father's Day!
Dads skate for FREE when accompanied by child!

Date: Sunday June 18, 2017
Time: 1:30pm-5:00pm
Locations:
Dublin: 7001 Dublin Park Drive, Dublin, OH 43016 - 614-764-1000
Easton: 3600 Chiller Lane, Columbus, OH 43219 - 614-475-7575
North: 8144 Highfield Drive, Lewis Center, OH 43035 - 740-549-0009

For group rates, contact Group Sales at 614-791-9999 x126 or groups@thechiller.com.
---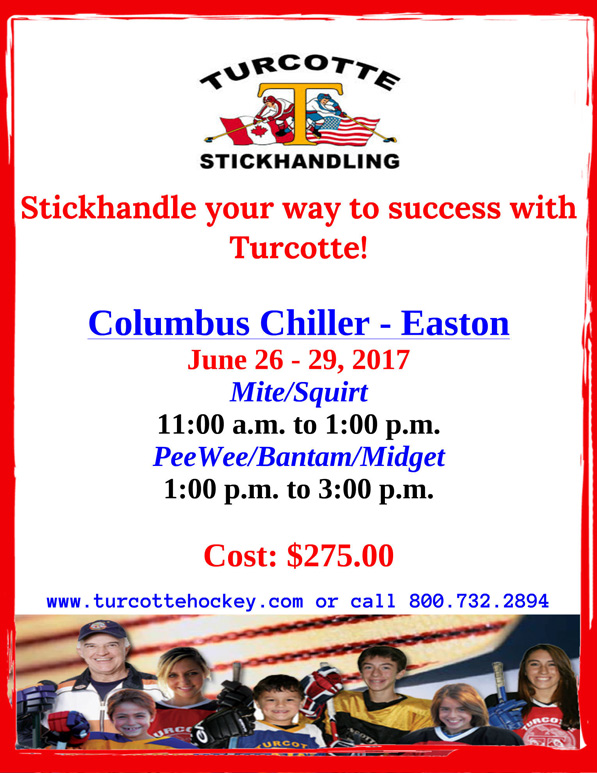 ---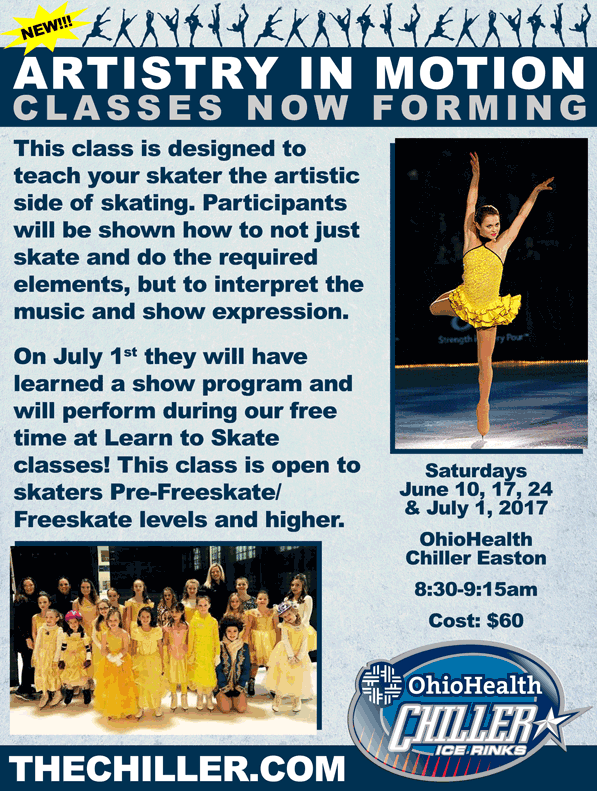 For more information, please contact Skating Director Denise Hughes - dhughes@thechiller.com or 614-791-9999 x124.
---

Stick & Puck - Girls Ages 6-17
Sunday 04/30/2017 - 12:20 PM - North
Phone or walk-in registration only – beginning 8am day of session. Registration may be prepaid by phone with a credit card to reserve a spot. Call-in registration will be accepted from 8:00am day of the session up until an hour before the session starts. Those who prepay and do not arrive within the first 10 minutes of the session may be bumped if there is a waiting list. No refunds will be given if you cancel, are bumped or do not show. One hour before the session, only walk-in registrations will be accepted.
A parent or guardian must sign in each player, or player must bring signed release form to each session.

Download the release form (PDF) >

All Stick and Pucks are $14 per person (add'l $6 for parent), limit 20 skaters and 5 parents. FULL equipment is required for players (Helmet, Gloves, Elbow pads. Shin Pads, Hockey Pants, Shoulder Pads, Stick and Skates), parents must have a helmet and skates.
Stick and Puck is practice ice only. No games are permitted unless ALL players agree to play.

Please note: Prices, schedule and policies are subject to change.

To verify schedule, please call Easton - 614-475-7575 - or check the daily rink schedule.
---
Upcoming Events (See all)
Camp Chiller - North - July 10-14
Camp Chiller will introduce your child to ice skating, as well as engage them in fun activities and projects. Camp includes at least 1 hour of skating a day!
Chiller Hockey Camp - Dublin
Designed for players in Junior Jackets hockey classes looking to join a team this fall and for current House players, Chiller Hockey Camp will get players ready for team play through on and off-ice instruction and campers will have a lot of fun along the way!
Camp Chiller - Dublin - July 17-21
Camp Chiller will introduce your child to ice skating, as well as engage them in fun activities and projects. Camp includes at least 1 hour of skating a day!