Chiller Blog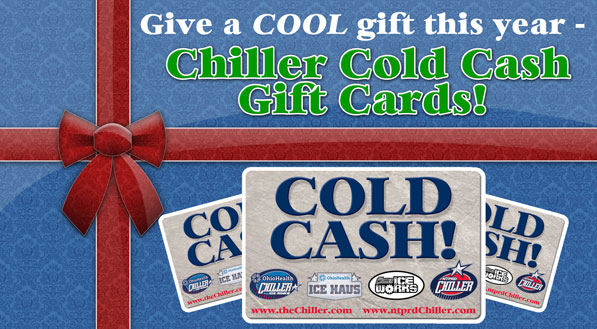 Available in any dollar amount
No fees
Never expire
Good at all locations, 7 days per week
Redeem for:

Public Skate
Drop in Hockey
Stick & Puck
Skating and Hockey classes
Ice Box Concessions and more
Questions? Email us at info@thechiller.com.
---
Keep your team on the ice and get the edge on the competition! Book your practice ice now at the special CAHL discounted rate of $170/hr.
**CAHL discount practice ice is available only to current CAHL teams in good standing. CAHL discount ice is limited to availability and is not applicable to all "open" ice times that may appear open on the Daily Rink Schedule. Typically the discount applies to non-prime time/lower demand ice times at the discretion of our schedulers. All players on the ice must be current members of the CAHL in good standing, with current USA Hockey registration. All players must sign in at the front desk. Failure to limit practices to current league members may cause a team to forfeit the privilege of receiving discounted ice.
Additional practice times are available.
Contact Mazin - 614-791-9999 x126 mhabash@thechiller.com or Jeremy - 614-791-9999 x123 jrogers@thechiller.com to book your ice.
12/20/2014 - Sat - Dublin - 9:30PM
12/21/2014 - Sun - Dublin - 8:50PM
12/22/2014 - Mon - Dublin - 8:10PM
12/22/2014 - Mon - Easton - 9:20PM
12/23/2014 - Tues - Dublin - 9:10PM
12/26/2014 - Fri - North - 9:50PM
12/27/2014 - Sat - Ice Haus - 8:50PM
12/28/2014 - Sun - Dublin - 7:10PM
12/29/2014 - Mon - North - 9:30PM
12/30/2014 - Tues - North - 9:10PM
1/3/2015 - Sat - North - 9:30PM
1/4/2015 - Sun - North - 8:10PM
1/4/2015 - Sun - Dublin - 8:50PM
1/6/2015 - Tues - Dublin - 9:00PM
---

November 28, 2014 - December 13, 2014
The Columbus Blue Jackets and WBNS-10TV are asking fans to join them in supporting the team's eighth annual "Jackets for Jackets" coat drive to help keep central Ohio families warm this season. New and gently used jackets of all sizes will be accepted from Friday, Nov. 28 through Saturday, Dec. 13 at a variety of locations. All coats that are collected will be donated to the Salvation Army of Central Ohio and then redistributed to local families in need.

Fans wishing to donate may visit the following drop-off locations:
Nationwide Arena at Blue Jackets home games between Nov. 28 and Dec. 13
FOX Sports Ohio Blue Line at Nationwide Arena
FOX Sports Ohio Blue Line at The Mall at Tuttle Crossing
OhioHealth Chiller Ice Rinks (Dublin, Easton and North)
For more information, please visit http://BlueJackets.com/JacketsforJackets/.
---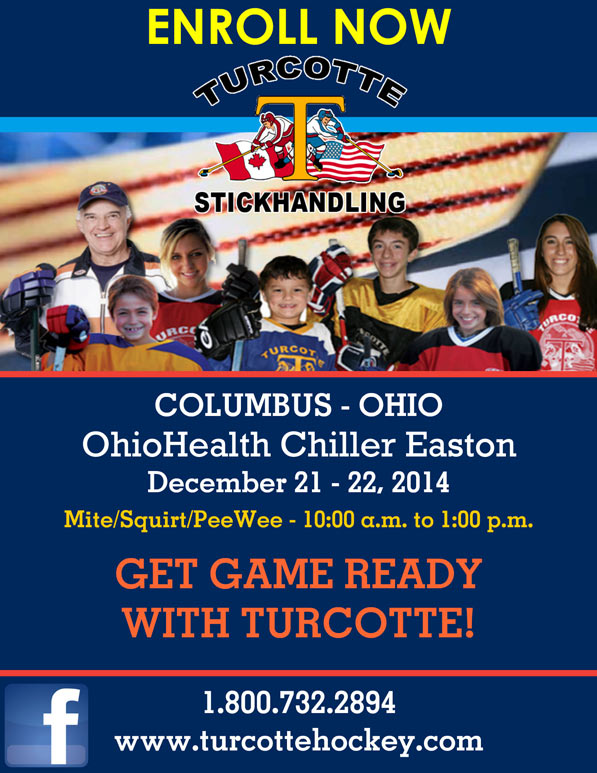 ---
The last clinic in Central Ohio will be Saturday, December 6, 2014 - 12:00-6:00pm.

Clinic Check-In
11:30am-12:00pm

Classroom Session
Columbus Airport Marriott
1375 North Cassady Avenue
Columbus, OH 43219
12:00-4:10pm

On-Ice Session
OhioHealth Chiller Easton
3600 Chiller Lane
Columbus, OH 43219
4:40–5:40pm

Please bring pen/pencil & paper for the classroom session. For the "on-ice" session, please bring your ice skates, gloves, hockey stick, and hockey helmet (required). Shin pads and elbow pads are recommended but not required.

To register for this clinic or other clinics, please visit http://www.usahockey.com/coachingclinics.
---
Upcoming Events (See all)
Blue Jackets vs. Blackhawks
Go Jackets!
Turcotte Stickhandling
Get game-ready with Turcotte! Camps for Mite/Squirt/Peewee.
Pre-Holiday Goalie Camp
Four hours on-ice and three hours off-ice, with focus on Goalie Specific Movement, Proper Positioning and Depth Awareness, Proper Save Techniques and Execution and Pro Tips to help goalies STOP MORE PUCKS! Head coach Dave Caruso.