Chiller Blog · Figure Skating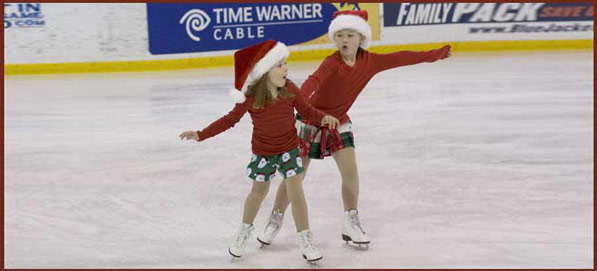 You're Invited To Skate in the Chiller Holiday Ice Show!
All local figure skaters and Chiller Skating School students are invited to participate!
Click here to view a highlight video from last year's show >

Sunday November 22, 2015
4:00-6:00 PM
OhioHealth Chiller North
Cost: $58
Registration Provides:
Performance of one number
Three rehearsal ice times with choreography instruction

Rehearsals Sundays in November - 11/1, 11/8 & 11/15 between 3:00-6:00pm

Two admission tickets

Additional tickets will be sold for $5.00 each
The show sells out every year so reserve your tickets early!
Skaters will be given their complimentary tickets and any additional tickets purchased at the November 15th rehearsal
Admission for children under age 10 is free
Registration Deadline - Friday, October 30, 2015

Click here to register online >
Download an printable informational brochure >

Contact Skating Director Denise Hughes for more info - dhughes@thechiller.com or 614-791-9999 x124
---
The Ice Skating Institute is pleased to announce the
2014-2015 ISI District 7 Team Competition Series
The first event in this exciting new series will be hosted by:
OhioHealth Chiller Easton Ice Facility
3600 Chiller Lane
Columbus, OH 43219
October 4-5, 2014
ENTRY DEADLINE September 6, 2014
Come and experience fun competitions! All ages and levels of skaters welcome!
**New Freestyle 4 Plus Event!!**
Download printable competition packet >
Download printable individual registration form >
Download printable team registration form >
---
Register now for the 2014 Buckeye Skate Competition, hosted by The Skating Club of Central Ohio on Saturday, June 7th at OhioHealth Chiller North.
This competition is sanctioned by US Figure Skating for Adult, Basic Skills, Beginner – Novice & IJS, Critiques for Juvenile and above, and Artistic/Showcase levels.
---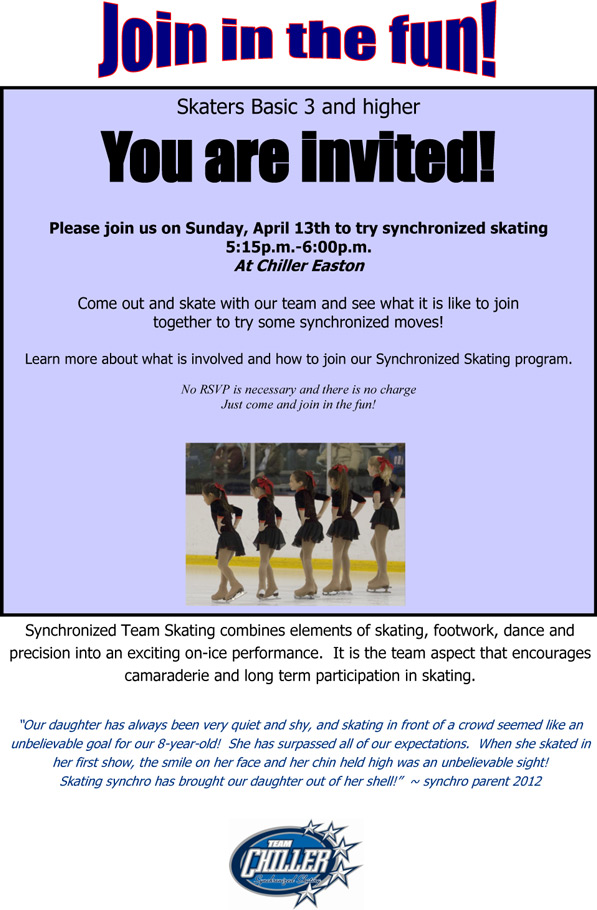 Contact Figure Skating Director Denise Hughes for more info - dhughes@thechiller.com or 614-791-9999 x124.
---
A great way for children to try it!
Already love skating? Improve skills for more fun!
Lower time & cost commitment for first-timers.
Make it a family activity!
For all levels (ages 4 & up).
4 week class starting the week of Nov. 4.
Dublin: Wednesdays 6:45pm & Saturdays 10:45am
Easton: Tuesdays at 6:45pm
North: Mondays 6:45pm & Saturdays at 10:45am
Download a printable registration form >
For more information, contact Figure Skating Director Denise Hughes - dhughes@thechiller.com or 614-791-9999 x124.
---
Upcoming Events (See all)
Homeschool Skate
Admission (includes skate rental) is $3 for current class members and $5 for guests.
Presidents Day Adult Hockey Clinic
Hockey clinic for ages 18+. Power skating, Stick handling, Passing, Shooting and Scrimmage.
Presidents Day Jr. Stinger Hockey Clinic
2-day hockey clinic for ages 4-6. Focus on proper skating stance and balance, forward skating, one foot snow plows, tight turns, stick handling, passing, shooting, cross ice scrimmage & more.