Camps and Clinics
The OhioHealth Chiller Ice Rinks offer a wide variety of hockey and skating camps and clinics throughout the year. Specialty camps and clinics are offered focusing on specific skills including skating, stick handling, passing, shooting and positional play. Camps and clinics are taught by highly qualified instructors focusing on the skills required to play at both the recreational or competitive level. These camps and clinics are not USA Hockey programs. For more information on upcoming hockey camps please contact Rob Schriner at (614) 791-9999, ext. 125.
---
2017 MLK Power Skating/Shooting Clinics
ALL LEVELS WELCOME!

Ages 5-8 - $30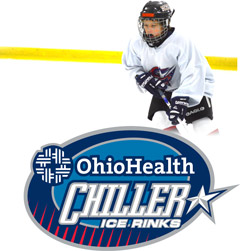 Sunday, Jan. 15, 2017
1:30-2:30pm
OhioHealth Chiller Ice Works

Ages 9-14 - $40
Sunday, Jan. 15, 2017
2:45-4:05pm
OhioHealth Chiller Ice Works

Ages 7-14 - $40
Monday, Jan. 16, 2017
1:00-2:30pm
OhioHealth Chiller Easton

Clinic will focus on:
Inside & Outside Edges
Balance
Starting & Stopping
Lateral Movements
Improve Puck Control
Quicker Release
Harder/Faster Shot
Accurate Shot
Full gear required.

Space is limited!.
Register online >
Download a printable informational flier >
For more information, please contact Hockey Director Rob Schriner - rschriner@thechiller.com or 614-791-9999 x125.
---