Scouts Day at the OhioHealth Chiller Ice Rinks!

Scouts Day at the OhioHealth Chiller Ice Rinks!
Looking for a fun place to spend a day with your scout group? Join us at the coolest place in town - the OhioHealth Chiller Ice Rinks!
Our Scout Day Packages include:
Admission to our Public Skating sessions
Skate Rental
Educational Tour of the Rink that includes how our ice is made and maintained (based on availability)
Food and Drink Vouchers - Choice of Hot Dog, Pretzel, Nachos or Popcorn with choice of Fountain Drink or Hot Drink
A unique Chiller Ice Rinks Scout Patch for each Scout
The package is $12 for each scout and $10* for family/friends/guests.
*Non-scout price includes everything but the patch.
All Scouts and guests of Scouts receive a Group Rate of $7 per person, including skates, upon scheduling a reservation in advance, aside from any additional packaged arrangement.
Add-ons include:
30-minute skating lesson at the beginning of ice time (based on availability and includes patches for up to 20 participants) - $50
Party Room (2 hours - includes 1 hour of setup prior and 1 hour of cleanup after) ex. 12:30-1:30 setup and 1:30-3:30 guests in for room rental - $75
1-topping large Pizza (includes plates, napkins, delivery and driver tip) - $12 each
1-gallon Pitchers of Lemonade or Pepsi product of choice (water is included) - $6 each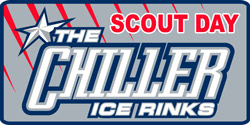 Scout Day patch
Please visit the Girl Scouts of Ohio's Heartland and Simon Kenton Council websites for other partnered events.
Search Glide n' Slide at https://www.gsoh.org/en/activities/activities-calendar.html
Search Blast into Scouting at https://skcscouts.org/calendar/
We also host FUNdraisers and private events for larger troops that can include any part of the Scout Day program!
For more information, or to book your event today, contact our Group Event Specialist:
Mazin Habash | 614-578-9825 | mhabash@thechiller.com