Daytime Skating Classes
Great for Pre-school and Home-taught Children. Enjoy the ice without the crowds! Our philosophy is to provide top notch, professional instruction for beginner through advanced skaters in a relaxed and fun environment. Chiller Learn to Skate classes are based on the fundamentals of United States Figure Skating (USFS) Basic Skills, and is an important step for those wishing to proceed on to ice hockey, speed skating or figure skating. Skating classes include a 30 minute lesson and 30 minute practice session.
For more information, contact Denise Hughes - dhughes@thechiller.com or 614-791-9999 x124.
Click here for more skating class info >
---
The March 2022 session (March 21-May 14) is underway. The May session begins May 31. Public registration opens May 4.
Click here to view printable PDF of June 2022 Learn To Skate schedule >
---
We are excited to announce the following updates to our Learn to Play Hockey and Learn to Skate class programs! Beginning with the August session, we are changing our class names and schedules. This will allow us to simplify the process for those registering and will provide more flexibility for our students and coaches. Following is a brief description of the updated class names and the skills we will teach.
"Learn to Play and Hockey Prep" will be replaced by Hockey 1, Hockey 2 & Hockey 3. Once a child moves through the three-step introductory program, they will be ready to join an organized hockey league. CLICK HERE FOR MORE HOCKEY INFO >

"Learn to Skate" basic skills classes will now be grouped as Skating 1, Skating 2 & Skating 3 (Little Friends, Stingers, Basic 1-6 & Freeskate will all fall under the 1,2,3 format and are still part of Learn to Skate USA).

Details of each level…
Skating 1 – INTRODUCTORY (all ages)
(Formerly known as Stingers & Basics 1-3)
Safety
Forward and backward skating
Gliding
Beginning edges
Body control
One foot glides foward and backward
Stopping
*New skaters under the age of 5 may register if accompanied on-ice by a parent or mature helper. (There is no additional cost for the helper.) Helper only required for initial 8-week session. Current Sinter 2 and Stinger 3 may register without a helper.
**Upon completion of this level, skaters may move into Speed Skating Club OR Skating 2 (will take more than one 8-week session of Skating 1 to master the required skills).
***Skating 2 is geared toward advanced edgework, jumps and spins, so Skating 1 must be passed before advancing to Skating 2.
Skating 2 - INTERMEDIATE
(Formerly known as Basic 4 through Pre-Freeskate)
Skaters must have passed Skating 1 to register (instructor will notifiy you when skater is ready to advance).
Beginning jumps & spins
Turns & edges
Crossovers
*Upon completion of this level skaters may move into Skating 3 (will take more than one 8-week session of Skating 2 to master the required skills - instructor will notifiy you when skater is ready to advance).
Skating 3 – ADVANCED "ASPIRE" Figure Skating
(Formerly known as Freeskate 1 through Freeskate 6)
Skaters must have passed Skating 2 to register.
Advanced edgework patterns
Advanced jumps & spins
For questions or for more information, please contact:

Learn to Skate Dublin
Lan Do – LDo@thechiller.com

Learn to Skate Easton
Denise Hughes – DHughes@thechiller.com

Learn to Skate North
Tera Kelner – TKelner@thechiller.com
Shelby Stewart – SStewart@thechiller.com
For private lessons, please contact Skating Director Denise Hughes - DHughes@thechiller.com or 614-791-9999x124
---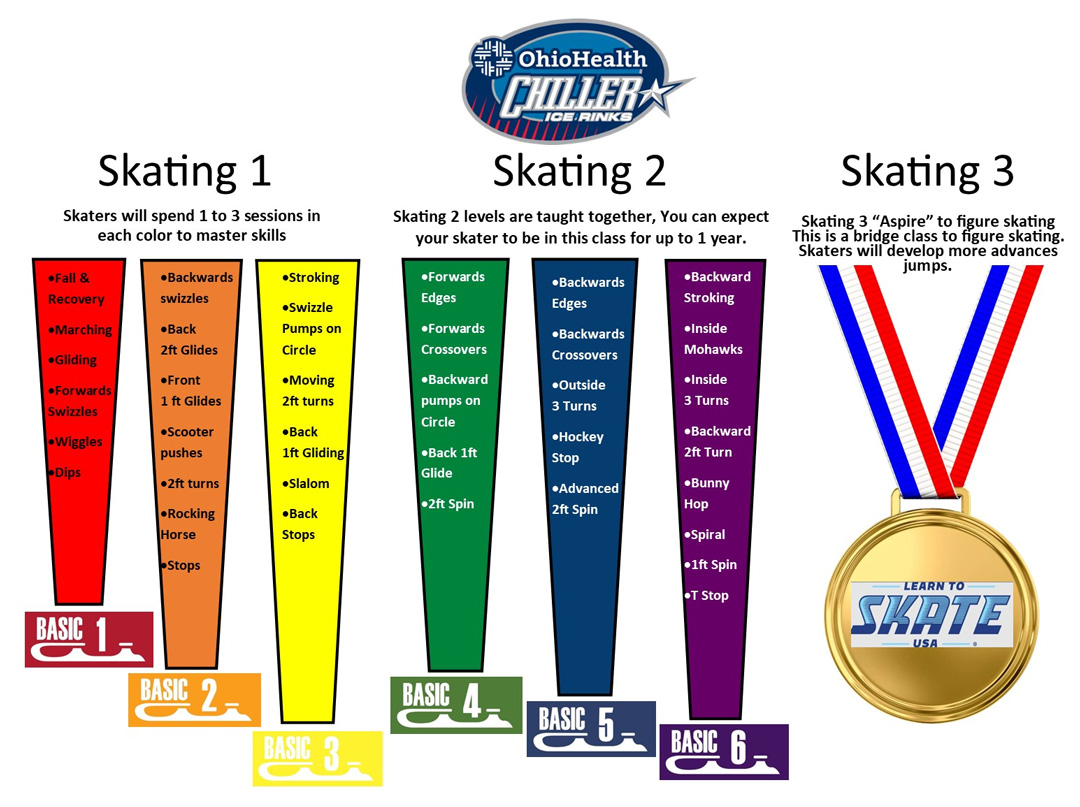 ---
OhioHealth Chiller Dublin: 614-764-1000
OhioHealth Chiller Easton: 614-475-7575
OhioHealth Chiller North: 740-549-0009
---
Policies & Procedures
FIRST DAY OF CLASS
Please go to the skate rental counter located at the front entrance of the lobby to get your rental skates.
Please meet your instructor by the ice surface. Instructors will stand next to signs stating CLASS NAME.
Please leave your skater with instructor and return to the lobby for the first 5 minutes of class to allow for adequate room for an off-ice lesson. Once skaters are on the ice, all spectators are welcome to re-enter the ice surface area.
To keep all students with other participants that are most similar in age and skill level, Chiller instructors will evaluate all students during the first class and move skaters to and from classes to make the most appropriate groupings.
FOR NEW SKATERS
Please arrive 15-20 minutes early to fit skates and familiarize yourself with the facility.
Please utilize the beginner figure skates which are easier to learn in. Only once a skater can confidently skate and glide do we recommend switching to hockey skates.
Practice walking, sitting on the floor and standing up for 5 minutes before taking the ice.
Make sure that laces are tied securely and tucked in.
CLASSES INCLUDE:
Weekly lessons taught by professional instructors
Skate rental
CREDIT/REFUND POLICY
Refunds are not granted for missing individual classes, and are only granted if special circumstances prevent the skater from participating/completing the series of classes. Requests must be in writing, carry a per lesson charge, a $15 non-refundable registration fee, and require up to 6 weeks to process.
MAKE-UP POLICY
No make-ups during regularly scheduled classes will be permitted in order to preserve the appropriate student to teacher ratio.
Classes times may be changed or classes may be canceled depending upon enrollment.