Sani Sport Service at OhioHealh Chiller North
What Sani Sport says about Covid-19:
---

Sani Sport Service at OhioHealh Chiller North
Schedule a Sani Sport treatment of your hockey equipment with contactless dropoff/pickup.
Cost: $30 per bag/set of player gear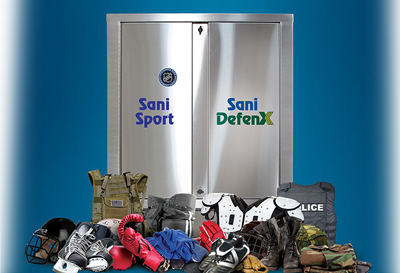 On the date selected, please drop your bag of equipment in the front entrance vestibule at Chiller North (8144 Highfield Drive, Lewis Center, OH 43035) between 10:00am and 12:00pm.
Please place your bag on the vestibule side labeled "Drop Off." Fill in a provided claim tag with your full name and phone number, and attach it to your bag.
Your equipment will be treated and ready to pick up at the same location on the following day between 10:00am-12:00pm. All gear including your hockey bag will be inside a clear Sani Sport bag. Please check the claim ticket to be sure you grab the correct bag.
To get the most out of your treatment Sani Sport recommends the following:
Leave all equipment in the sealed, clear bag for a minimum of 24 hours.
Air out your equipment after every use.
Wash jerseys, socks and all washables after every use.
Maintain good personal hygiene.
Utilize our Sani Sport disinfection service periodically when you are playing frequently. Frequency depends on amount of use and if you are following the Sani Sport recommendations above.
PLEASE NOTE: WE DO NOT CLEAN WASHABLES INCLUDING SOCKS, JOCKS AND JERSEYS. WE DO NOT CLEAN MOUTHGUARDS, SKATE TOOLS, TAPE, ETC. PLEASE REMOVE THOSE ITEMS FROM YOUR HOCKEY BAG BEFORE DROPOFF.
Your credit card will be charged upon completion of the disinfecting process.
Email info@thechiller.com for more information.
---
About Sani Sport:
Four high-intensity UV lights convert oxygen into ozone. Then fans circulate the ozone throughout the equipment for twelve minutes, killing up to 99.99% of the bacteria present. A patented Ecomist solution, containing natural Tea Tree Oil, is then fogged deep into the equipment to attack the remaining bacteria. The final step is to seal the process with a scented bactericide creating a protective shield on the equipment, eliminating 99.99% of all bacteria.
This is not simply a fragrance or masking agent up but a scientific biological process designed to eliminate bacteria and the resulting odors from equipment leaving it fresh, deodorized and sanitized well after the Sani Sport process.
Simply washing equipment invites new bacteria to develop in the equipment
The Sani Sport Process is the single most effective way to reduce and eliminate dangerous bacteria
The Sani Sport process will protect equipment from new bacteria formation.
Sani Sport is the most widely used bacteria reduction system in the sports world.
Sani Sport is the only machine that has earned the NHL's Mark as "The Preferred Supplier in Equipment Sanitizing".
Sani Sport is the only system purchased and used by NHL Teams to reduce odor and bacteria in equipment, and prevent injury.