Chiller Pond Hockey League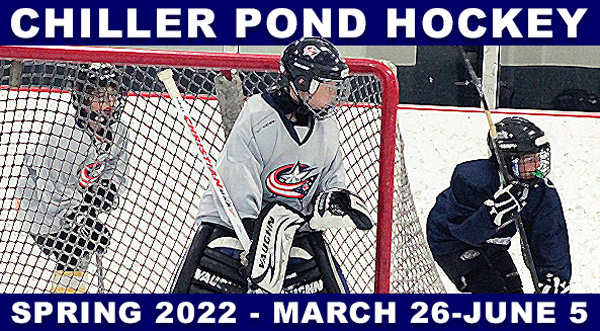 Chiller Pond Hockey League - Spring 2022
21st annual spring league!
March 26-June 5, 2022
10 Game Season - Saturdays and Sundays
No games on April 17 (Easter Sunday).
Games played at Chiller Dublin, Easton, North, Ice Works and Ice Haus.
Contact Hockey Director Rob Schriner with questions - rschriner@thechiller.com.
League Rules
No Icing

Delayed offsides

Stoppage of play for goals, offsides and penalties

Clock stops only if injured players

NO CHECKING

Penalties result in penalty shot

Players with 3 or more penalties will be ejected from game

Max of 3 goals per player

Any team or individual wanting to play UP a division, must secure approval from Rob Schriner

All players MUST sign in on scoresheet prior to each game (Coach/Team Manager to assist young players)

Midgets - only 5 same-school varsity players per team per OHSAA regulations

All players must be valid USA Hockey members (USA Hockey numbers must be provided to team manager)
Periods
Three 15-minute running time periods

Timeclock will stop only if a player is injured
Coaches/Managers
All teams must have a USA Hockey certified coach

Coaches/Managers must attend mandatory league scheduling meeting. Chiller will notify of time and location via email.
Jerseys
Visiting team must wear pinnies (supplied by Chiller) if both teams have same jersey color

Must have numbers on back of jerseys
What is Pond Hockey?
Pond Hockey is high speed, high scoring, end-to-end hockey action without the pressure of the regular season scores, standings and format! It's a chance for players to handle the puck, get creative, and play like they're out back on a pond. And the best part is while the kids are having fun, they're focusing on skating, stickhandling, passing, shooting and backchecking/forechecking.
All games will be available live and on demand through Live Barn.
Please note: All participants skate at their own risk.
Divisions/Age Levels
Mini-Mite (2015/2016 birth year) - 4 on 4 half-ice, coaches on ice, no scorekeeper

Mite Recreational/Competitive (2013 birth year) - 5 on 5 full-ice

Mite (2014/2015 birth year) - Choice of Shinny division (3 on 3 half-ice) or 5 on 5 full-ice division

Squirt (2011/12) & Pee Wee (2009/10) - 3 on 3 full-ice. Competitive and recreational divisions are offered. Competitive will be made up of select/travel players while recreational division teams will tend to have predominantly first year players and beginner players (no travel players in this division).

Bantam (2007/2008) - 3 on 3 full-ice. Players in this age group may have played JV high school, House or Travel Hockey and are Bantam-aged. Recreational division teams tend to have house or JV players. Competitive division teams will have predominantly travel players.

Midget (2003/04/05/06) - 3 on 3 full-ice. Upper and lower divisions are offered. Players in this age group may have played Varsity High school or Travel Hockey and are Midget-aged.
Please sign up at level played during the 2021-2022 season.
Registration/Fees
Registration must be made as a team and requires team name, coach name, all rostered names, 2021/22 teams played, birth years, USA Hockey numbers and email addresses by March 1st. Sign up by March 1 and receive a free practice!
Your first payment (50% deposit or full payment as designated by you on registration form) will be processed on March 1. Remaining balance (if applicable) will be processed on March 16.

Cost
Mini-Mite: $1,000 (cross-ice games)

Mite Shinny (cross-ice games) $1,000 (Sundays only)

Mite/Squirt/Pee Wee/Bantam/Midget (full-ice): $1,900

50% of fees due by March 1; remainder due by Mar. 16

If signing up as an individual, per-person fee will be calculated once the roster is finalized.
Rosters
Minimum 10, maximum 18 players per roster (including subs). For Mites, roster of 16-18 recommended.

Chiller reserves the right to assign individual registrants to team rosters in an effort to make sure every player finds a team.

Only 13 maximum can dress in a game (including goalie).

Team/Coach contacts will be posted online.
Need a team?
If you are an individual without a team, we will try to find you a team or try to create a draft team of individuals.

Spots are not guaranteed, but we will try our best and keep you posted.
Get ready for Pond Hockey Play
Practice Makes Perfect! Great practice times are available including weekdays and weekends.

Contact Jeremy at

jrogers@thechiller.com

for more information or to schedule your practice.
For more information, contact Hockey Director Rob Schriner - rschriner@thechiller.com.